PRIVACY NOTICE
This privacy notice discloses the privacy practices for https://dekralite.com/ . This privacy notice applies solely to information collected by this website. It will notify you of the following:
What personally identifiable information is collected from you through the website, how it is used and with whom it may be shared.
What choices are available to you regarding the use of your data.
The security procedures in place to protect the misuse of your information.
How you can correct any inaccuracies in the information.
INFORMATION COLLECTION, USE, AND SHARING
We are the sole owners of the information collected on this site. We only have access to/collect information that you voluntarily give us via email or other direct contact from you. We will not sell or rent this information to anyone.
We will use your information to respond to you, regarding the reason you contacted us. We will not share your information with any third party outside of our organization, other than as necessary to fulfill your request, e.g. to ship an order.
Unless you ask us not to, we may contact you via email in the future to tell you about specials, new products or services, or changes to this privacy policy.
YOUR ACCESS TO AND CONTROL OVER INFORMATION
You may opt out of any future contacts from us at any time. You can do the following at any time by contacting us via the email address or phone number given on our website:
See what data we have about you, if any.
Change/correct any data we have about you.
Have us delete any data we have about you.
Express any concern you have about our use of your data.
SECURITY
We take precautions to protect your information. When you submit sensitive information via the website, your information is protected both online and offline.
Wherever we collect sensitive information (such as credit card data), that information is encrypted and transmitted to us in a secure way. You can verify this by looking for a lock icon in the address bar and looking for "https" at the beginning of the address of the Web page.
While we use encryption to protect sensitive information transmitted online, we also protect your information offline. Only employees who need the information to perform a specific job (for example, billing or customer service) are granted access to personally identifiable information. The computers/servers in which we store personally identifiable information are kept in a secure environment.
If you feel that we are not abiding by this privacy policy, you should contact us immediately via telephone at 1.888.710.5483 or via email.
The above notice (or policy) probably does not describe your privacy practices exactly. You need to personalize your statement to fit your business practices. Following are some sample clauses that you can use to help describe other specific practices that fit your business model.
ORDERS
We request information from you on our order form. To buy from us, you must provide contact information (like name and shipping address) and financial information (like credit card number, expiration date). This information is used for billing purposes and to fill your orders. If we have trouble processing an order, we'll use this information to contact you.
COOKIES
We use "cookies" on this site. A cookie is a piece of data stored on a site visitor's hard drive to help us improve your access to our site and identify repeat visitors to our site. For instance, when we use a cookie to identify you, you would not have to log in a password more than once, thereby saving time while on our site. Cookies can also enable us to track and target the interests of our users to enhance the experience on our site. Usage of a cookie is in no way linked to any personally identifiable information on our site.
We use an outside shipping company to ship orders, and a credit card processing company to bill users for goods and services.
These companies do not retain, share, store or use personally identifiable information for any secondary purposes beyond filling your order.
LINKS
This website contains links to other sites. Please be aware that we are not responsible for the content or privacy practices of such other sites. We encourage our users to be aware when they leave our site and to read the privacy statements of any other site that collects personally identifiable information.
Sequoia Tree Collection
The Sequoia Tree Collection sizes range from 14' all the way to 80'. This fully configurable tree has many options to meet your needs. Check out some of the features below.
The Last Tree You'll Ever Have To Purchase
the Sequoia is everything you want in a traditional Christmas tree. Our Sequoia Trees are the safest on the market as the first tower tree to receive the RSE (Registered Structural Engineer) stamp of approval. Plus, these trees' patented self-shaping branches are specifically designed to "spring back" to their original shape, ensuring a perfectly plush look straight from the box.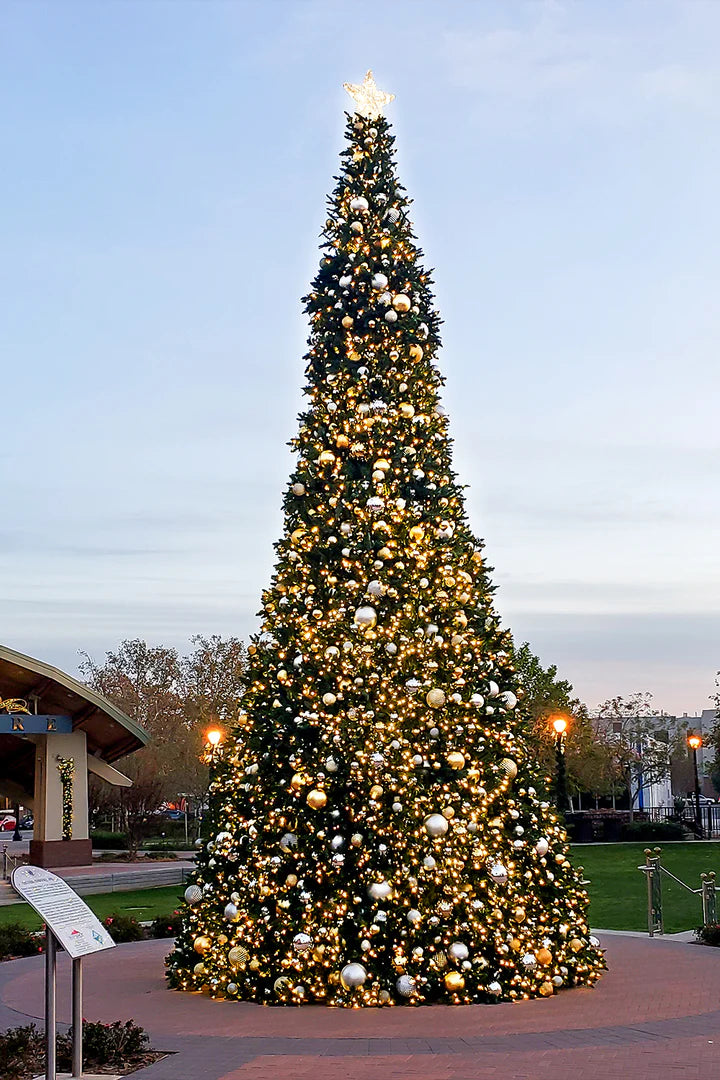 Pre Lit Christmas Trees
Sequoia Trees come pre-lit with warm white LED mini lights so you won't have to worry about untangling your string lights each year. Since LEDs use up to 90% less energy than traditional incandescent bulbs, this tree will help you seriously cut back on energy costs. Every Sequoia is also UV-treated to avoid sun fading in outdoor venues.